In my travels as a truck driver I am privileged to see many interesting things along the way. Sunday evening was week was no exception, I found something extraordinary on my route South of Manitowoc, WI on I-43. Sticking up very high into the nights sky was a huge American Flag fluttering on the cool evening breeze.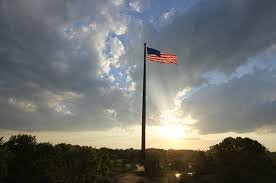 I drove a number of miles, thinking "am I ever going to get close to this enormous Flag?" before finally driving past. Enormous, huge, gigantic, breath taking, Inspiring, these are just a few fitting words that could be used to describe the American Flag and Its 400′ tall flagpole found in Sheboygan, WI at the Acuity Insurance building.
Take a few minuets to enjoy these videos. You won't be disappointed.
Some fun facts:
The flagpole is nearly 100 feet taller than the Statue of Liberty
70- by 140-foot flag is the world's largest free-flying American flag
Each stripe is over 5 feet high and each star nearly 3 feet across
9,800-square-foot flag weighs 340 pounds.
More information can be found at Acuity.com
This week I will have three more opportunities to view this impressive site. I will attempt to capture my own images and will share them with you here.
-QBall45