I received a comment a few days ago in regards to the subject of the title of this post. You can check out the comment HERE. At first I thought i would simply blow it off as just another spam comment. This morning I changed my mind. I'd decided to write this post for one simple reason, I appreciate the time it took to page through several years worth of posts in order to find one worthy of commenting on. So, here's my response.
A quick Google search will provide you with a plethora of outstanding information on any subject you wish to understand better, including how to become a better blogger. Not really what you wanted from me? Hmm… Maybe I can come up with some real tips that will help you out. But first I would like to offer you some Internet safety advice. Please check out the following cartoon. (Image courtesy of my Google+ feed)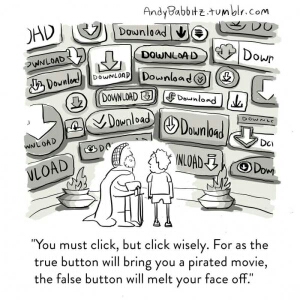 After taking a moment to study this safety tip did we learn anything useful? I certainly hope so. Now, I think it is time to get on with the show.
Tips On Becoming A Better Blogger
I think that we first need to understand exactly what a blog is. How do we do that? We use our trusty search engine.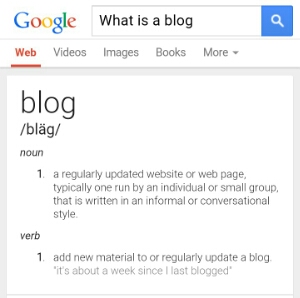 Now that we have an understanding of what a blog is let's move on to some stuff that's actually useful. Shall we?
Writing Style & Readability
I find that both writing style and readability are vitality important for the success of a blog. When I read something poorly written my focus shifts from the subject to the spelling or grammatical error. Why? The reason is simple. Errors, either spelling or grammatical, jump off the page as if in psychedelic 3D. The solution? Use spell check as well as grammar check followed by proof reading.
The style with which you write tends to change (at least it should) based on the subject matter of each individual post you write. The successful blogger how to use different writing styles and uses them appropriately. I will let you use your search engine for further information on different styles of writing. (I'm lazy and you're fully capable.)
Content
My best advice is to write about whatever is of interest to you at the time. Odds are you will find doing so both enjoyable and fulfilling, these are really the best reasons for writing. Try not getting caught up in the "I've got to blog about the latest 'xyz' every day" mentality. Doing so will become time consuming and frustrating, enough so that you'll stop writing. Interesting simplicity is best.
Measuring Success
How do you measure your success as a blogger? The easiest way to do so is with statistics. One can easily success by checking the stats for your blog. Page views are hard facts. Personally, I measure the success of what I write here more on the number of countries I reach than simply the number of pages viewed. I find it extremely interesting to see that I reach people in far away places.
If you have found this useful or entertaining please leave me a comment below.
–QBall45